On the morning of the 16th, Zach did not show up for breakfast. This is not unusual; he likes to wander, and on occasion has turned up as late as lunchtime. However, with Summer in full swing and the current drought conditions, we also know that it is risky for little cats to be out at night.
We could have kept the cats inside at night, but Zach had his routine, and made such a fuss if he couldn't come and go as he pleased. Outdoor activities were such a big part of his cat identity. So we let him be, reminding him to be alert, and not be a tender morsel for some hungry predator.
We feared the worst when I found his collar and some fur on our front driveway. Not a good sign. Clearly a scuffle had occurred. We walked around the block, talking to any neighbors we met, asking them to keep a look out.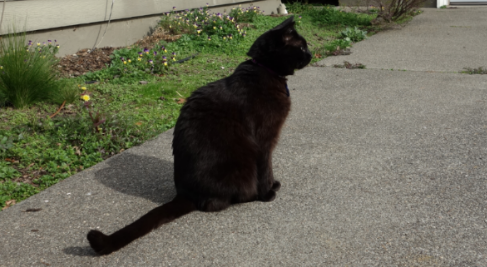 The following day, Lisa decided to check out the field next to the nearby Elementary school. We both went, and there we found him. His luck had run out. It was probably a coyote; neighborhood sightings are becoming commonplace.
We collected him together and wrapped him in piece of hessian, and took him back home and buried him between the orange tree and the cherry plum tree, where all our cats liked to sit, and nap, and watch.
Our little neighborhood trooper is no more. He was friendly and talkative, and didn't move fast unless he had to. Everyone loved him.
We let him live the life he wanted: He slept all day, gave and received plenty of love, and demanded both food and the right to go out at night. We spoiled him rotten while we could.
He has been a terror to birds and lizards and mice alike, and has now paid his debt to the Food Chain. We, in turn, are paying our own debt in our hearts.