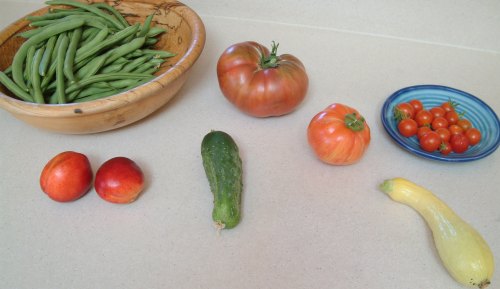 The beans are doing incredibly well. I think we have enough to offer our neighbour, except he has plenty of his own.
Our little nectarine tree has produced 6 fruit this year, and two of them were ripe enough to be picked.
One cucumber from the scraggly plant, and a squash from the plant-that-was-supposed-to-be-an-Eggplant.
The Sweet 100's tomato bush produced its usual daily handful, but the big news is from the other tomato plants. These are plants I grew from seed, from hierloom tomatoes we purchased last year from the market. The tomatoes were so delicious that I saved the seeds, grew seedlings this Spring and now the plants are producing.
The one on the left is from a variety I called "Tri-Tip" because the flesh is dark red and the internal structure is kind of undefined and you carve it into slices.
The one on the right is from a variety I called "Stripe", for obvious reasons.