C&L Nicholls - Spacefold FoxSpoken Latest Volume FoxSpoken Volume Index
---
>L<'s Page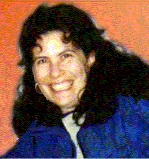 To be continued...
This page will contain more personal info as soon as I have a moment to write it and can find a way to get my tongue out of my cheek. Right now, you'll just have to settle for some of my random-access thoughts. Call it Radio SoftSpoken's answer to hip-hop sampling.
What's "Radio SoftSpoken"?
I used to be an independent consultant, doing business under the name SoftSpoken. I chose that company name when I started out as a technical writer. (Before we moved from New Zealand to the United States, this website was maintained as www.softspoken.co.nz).
A lot of my written work is designed for FoxPro developers and other people interested in database management issues. "Radio SoftSpoken" is my name for the internet-broadcasted portions of these communications.
I still run an informal newsletter for Fox developers on this site, which I call FoxSpoken. You'll see references to Radio SoftSpoken in the FoxSpoken pages, since I maintain all back issues on this site.
If you are interested in my professional bio... text file with credentials attached. These days, I work full time for the Acxiom Data Network (having more fun, with more technologies and more data, than I ever knew existed) -- so I won't be able to take you on as a developer-client, please don't write and ask!
Other info on your mind but not on my head
If you have technical questions, I'll be happy to meet you on the msnews.microsoft.com Fox news groups*2. If you don't see me there, and you feel the question requires more help than you are already getting on the newsgroup, you can e-mail me to let me know exactly where (what group, what thread title) you used for your post.
Please do not send me your entire question e-mail. Although it's nice to chat to people e-mail, please remember that we all have work to do! I will respond to your question on the newsgroup if I have something worthwhile contributing, I promise.
What you CAN blame me for 'round here
Oh yeah. I'm the Webmaster of this site. And I know it doesn't have cool graphics etc etc etc etc. Colin would do a LOT better, as you'll notice when you visit his site.

The problem is, folks, I'm of the opinion that I need to push out the information you ask me for as fast as possible. There's a lot of it.

I can make it pretty later, right? But even when I do have time, to tell you the truth, my general web philosophy tends to be first, waste no bandwidth. Must be a consequence of too much code-doctoring!
Moving on...
Maybe Colin will be Webmaster wherever this site lands next.
The totally-astute (or URLMinder-endowed) among you may have noticed that there is no longer a pointer to my Visual FoxPro MasterClass Framework page on this page. This change has nothing to do with our move, but rather the changes from VFP 5 to VFP 6. MasterClass Framework development has officially stopped. You'll find more information about this in the FoxSpoken pages still on this site (and all MasterClass pages are still there, for those people using it for VFP 3 and VFP 5 development).
Acknowledgements
As a wonderfully wise Fox developer once said, at the witching hour one Saturday night (yes, I've checked, it's still in the VFP 6.0 version of TRANSPRT.PRG), debts must be paid . The .GIF at the top of this page was a .GIFT from nj (Nancy Jacobsen), surely one of the most giving and gifted members of the on-line Fox community.
More gifts
For an example of truly appropriate media use -- one hint: some of you know I came by my love of patterns through a love for architecture -- check out this superb site.
Check out the enlightened observations Roger Sessions bestows on the hapless software development community. You'll notice that Mr. Sessions doesn't waste a great deal of time or thought on formatting and images either <g>. Check often, and read well.
And isn't it a grand gift to know that we can check them out, along with your visions of communication, and mine, whenever we want?
Later,

Lisa Slater Nicholls